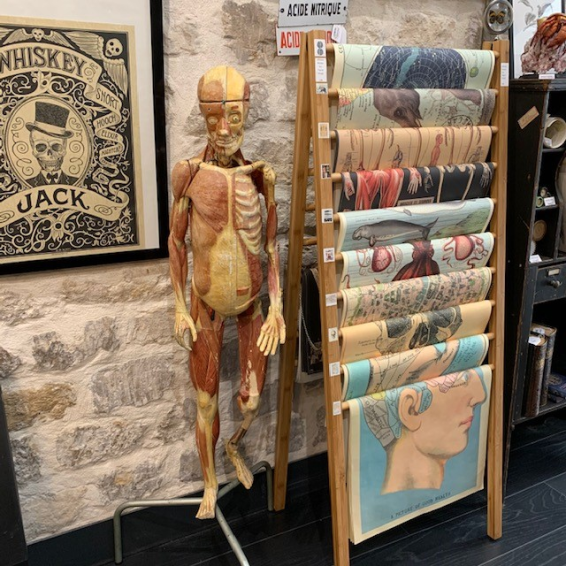 View larger
Clastic Mannequin - Dr. Auzoux's anatomical skinned
Dr Auzoux - Ecorché anatomique
Condition: Used
Warning: Last items in stock!
Availability date:
Clastic Mannequin of Dr. Auzoux's Establishments

Early 20th century on original tripod

Model made of papier-mâché.

From 1830, Dr. Louis Auzoux developed the industrial production of removable anatomical models, in "papier mâché ", known as models of clastic anatomy (from the Greek to pieces, broken).

Much lighter than plaster or wood models and less expensive than wax models. His secret to making its mannequins light and easily manipulated without being too fragile lies in the manufacture of it paste with addition of cork powder.
It thus responds to the strong demand for human models for the teaching of anatomy in medical schools. At the time, these models of artificial skinning represented a sensible alternative to the practice of dissections of corpses.
Dr. Auzoux died in 1878, the establishments were taken over by his widow and nephews and in 1926 they were bought by Henri Barral who reunited them with the Maison Vasseur-Tramond, a specialist in ceroplasty (wax models). From 1959, the arrival of synthetic resins marked the abandonment of anatomical models in papier-mâché. It's the end of these models.

A real museum piece that we don't often see on the market.

It is not in perfect condition it is true, he has lived and has flaws that are:

The intestines remain detachable internal organs inside the chest cavity, notably missing the heart and lung.

His left leg was broken in two places on the shin and glued back together, there is a lack and you can see the metal inside the leg.

The toes of the right foot are missing

Some fingers of the right hand were broken and glued back together.

It lacks the hook that held the face to the skullcap, for the moment the face holds with a thread that goes around the neck to hold the whole.



The inside of the cranial box is complete with its sliced brain.

The model rotates on it's right foot.
The colors are still beautiful.

No delivery - In-store withdrawal

Total height with tripod: 1.44m Single dummy height: 1.20m
Availabilities for Pick-up in store :