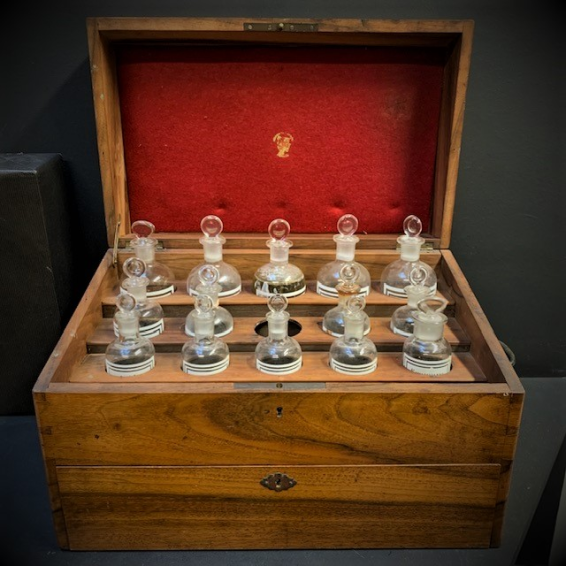 View larger
19th century portable pharmacy - Wooden apothecary cabinet
Cabinet d'apothicaire
Condition: Used
Warning: Last items in stock!
Availability date:
19th century portable pharmacy - Apothecary cabinet
Very nice wooden cabinet with the flap that lifts up.
The interior is layered in amphitheater with 3 floors of bottles of different sizes.
Consisting of 14 bottles present, 1 is missing, there should be 15 normally. I added a bottle of acetic acid of the same origin, the bottle is full but the cap is blocked.
The inside of the flap is covered with a red felted fleece.
The lower part is made of a drawer divided in 3.
Interior height of the drawer: 7.5cm
Handles and locks in brass. There is no more key. Very nice condition.
A beautiful antique cabinet for any collector of pharmacy bottles! A beautiful piece that is more and more rare.
Dimensions of the trunk: 26x43cm Height: 29.5cm
Comes from the estate of a wealthy family of railroad engineers, settled in St Chamond in the Loire.
The bottle of ammonia is always full, the cap is blocked, impossible to open it to empty it.
Bottles:
Second floor - 12/13cm flasks:
-- Phenic acid - Laudanum- Collodion - Iodoform - Potassium bromide (this vial is slightly different from the others)--
Second floor - 14.5cm vials:
-- Commander's Balm - Water of Melissa - Iron Perchloride - Chloroform --
Third floor - 17.5cm bottles:
--Sweet Almond Oil - Sulfuric Ether - Ammonia - Anti-Migraine - Arnica Tincture
Availabilities for Pick-up in store :