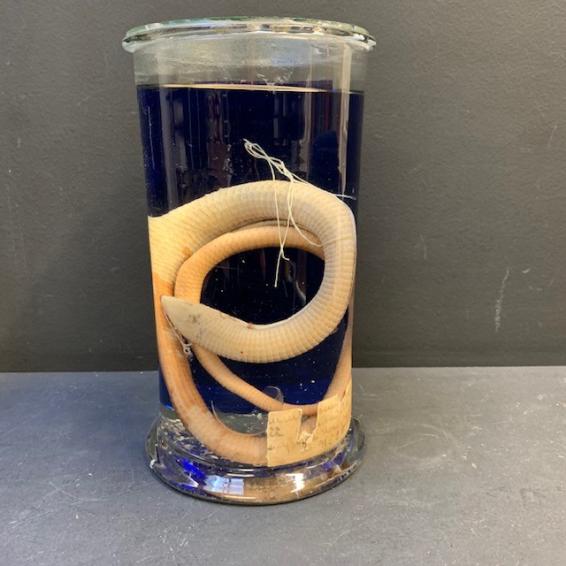 
Jar Museum: Slowworm Pseudopus apodus
Jar Museum: Slowworm Pseudopus apodus
Description
Bocal Museum also called flute.
Old glass jar filled with alcohol. Closed by a glass disc.
From a former veterinarian who worked at the Ecole Vétérinaire de Maisons-Alfort. These jars are from his work at the school. By cross-checking the various information of the seller with the labels found on the jars, a part comes from the Faculty of Zoology of the University of Algiers from the 1920s to the 1930s. Some specimens come from Professor Léon Gaston Seurat.
In an interview with his son, Silvère Seurat, he says: He was also part of the first scientific mission to the Hoggar (Algerian mountain range) in 1931 for the centenary of the conquest of Algeria. They were some professors of the University walking on camels in the mountains, in the middle of the desert. I can still remember welcoming her with a whole series of iron trunks, full of horned vipers, scorpions and other pets.
He sometimes put his menagerie in the bathtub because all these animals had to live! A horned viper in a bathtub is totally harmless, unless you take a bath, of course!"
This flute is from the 20-30's.

It contains an slowworm - Pseudopus apodus from North West Africa, as indicated on the label.

This species can measure up to 135 cm, its legs are very small measuring only 2 mm. its tail, when intact, measures about 1.5 times the size of the body.

A glass plate inside the flute prevents the specimen from floating and also allows a better study by placing the specimen against the Walls.

Flute blown in the mouth, trace of the cane. Previously the orvet was suspended thanks to a glass float floating on the surface. But this one broke, you can see the broken pieces.

Height 25.5cm
Diameter of the base 14cm. Diameter of the tube: 11cm
No shipping.