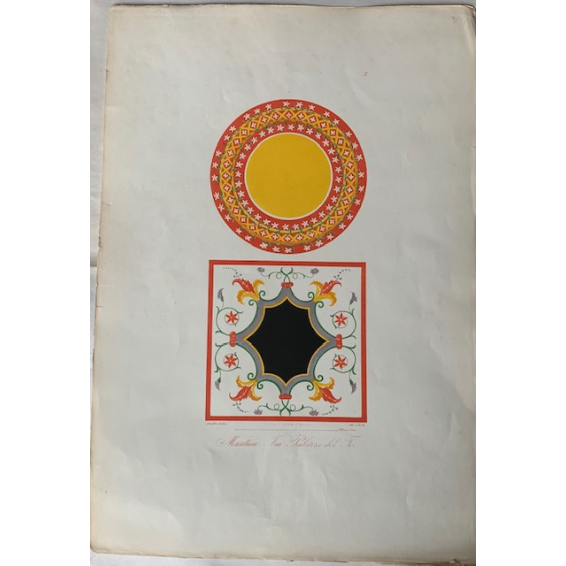 View larger
Chromolithographic plate - 1832/1849: Wall decoration of Pompeii - Herculaneum mosaics by Wilhelm Zahn
Lithographie 1832/1849
Condition: Used
Warning: Last items in stock!
Availability date:
Chromolithography by Wilhelm Zahn circa 1849
From the collection: "Ornamente aller klassischen Kunst-Epochen nach den Originalen in ihren eigenthümlichen Farben". - (Ornaments from all periods of classical art according to the originals and presented in the appropriate colours)
Representation of the interior decorations of Giulio Romano at the Palazzo del Te in Mantua and of the mural paintings of Pompeii and Herculaneum.
By Wilhelm Zahn (1800-1871)
Date of publication: Between 1832 and 1849
Publisher: Reimer - Berlin
Dimensions: 30x44cm
Plate 3: interior decoration of the Palazzo del Te in Mantua
Plate 74: interior decoration of the Palazzo del Te in Mantua
Plate 90: Herculaneum Mosaics and Murals of Pompeii
The book can be read on the website of the University of Weimar: https://digitalesammlungen.uni-weimar.de/viewer/! thumbs/PPN672198312/1/
You will find the 3 plates on the following links:
https://digitalesammlungen.uni-weimar.de/viewer/object/PPN672198312/21/
https://digitalesammlungen.uni-weimar.de/viewer/image/PPN672198312/157/#topDocAnchor
https://digitalesammlungen.uni-weimar.de/viewer/image/PPN672198312/185/#topDocAnchor
Availabilities for Pick-up in store :