View larger
Brass insectoscope - pocket microscope - The Floroscope in it's box
Floroscope boîte
Condition: Used
Warning: Last items in stock!
Availability date:
Pocket Microscope - Floroscope - Botanist Microscope - INCOMPLETE, offered in its box.
This small microscope also called Floroscope or botanist's microscope were sold from the 1850's until the 1930's in France.
Small pocket microscope made of brass and glass lenses which allowed the quick observation in nature of insects, small minerals, flowers etc...
What is very ingenious is that they are composed of 2 parts:
The first, for observations requiring low magnification, is a biconvex lens mounted on an openwork cylinder.
The second part, here MISSING, for magnifications higher than a dozen times, is the Stanhope lens. The Stanhope lens is very basic, it is a glass cube, prism or cone with a flat surface.
The lens is held in a brass and cork eyecup, this part is missing on our microscope.
The needle here (not original) was used to pierce the object or insect to be observed and placed under the simple lens.
Late 19th - early 20th century.
Perfect for any budding entomologist who respects himself!
Unfolded height: 7.3 cm Diameter: 2.6cm
Here is an illustration to see what this complete florascope looked like.
(Source: The Compendium - www.lecompendium.com)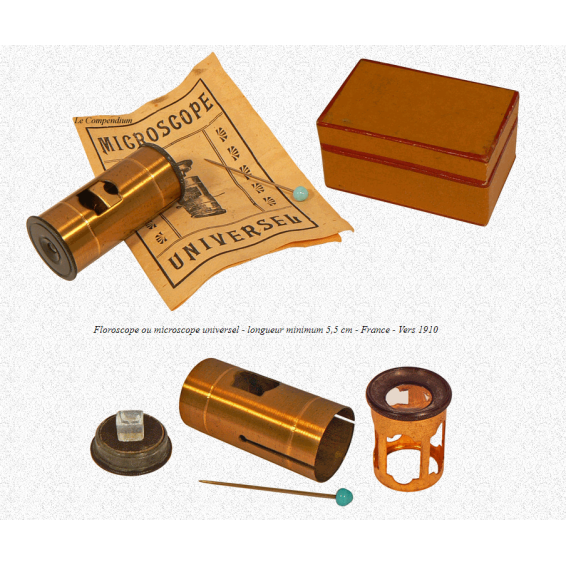 Availabilities for Pick-up in store :