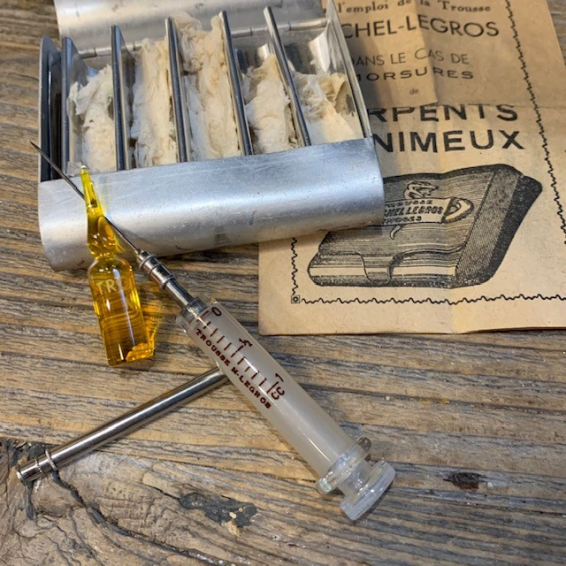 View larger
Healing of Snake Bites: the rescue kit Michel Legros
morsure serpent LEGROS
Condition: Used
Warning: Last items in stock!
Availability date:
Small rescue kit for snakebite healing.
Manufactured by a pharmacist from Limoges, Michel LEGROS.
Aluminum case with beautiful relief illustration always in its packing box.
At the beginning of the 20th century, Michel Legros, a pharmacist in Limoges, was a great connoisseur of botany.
He has developed a product that heals people bitten by a venomous snake with impressive speed.
Hunters, sinners and farmers in the region rush to his dispensary to get this kit.
The metal box contains four bulbs, filled with an herbal product, and a syringe.
His kit became famous all over France and even abroad until the 1960s.
The kit is not complete, it contains:
-a glass syringe
-1 phial of orange antivenom
-1 needle for the syringe in its holder
-1 file
The top of the aluminum kit has scratches, scuffs and dents.
Case Dimensions: 8 x 7.5cm
It is offered with the original leaflet and part of the original packaging cardboard with advice on how to use the kit.
Availabilities for Pick-up in store :