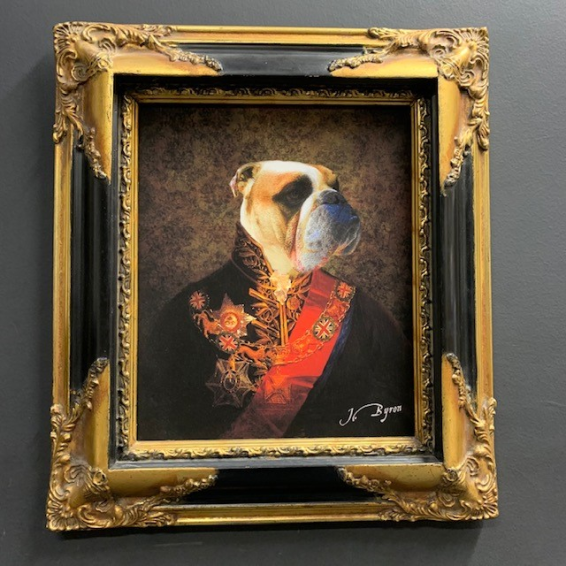 View larger
Anthropomorphic frame: Bulldog Officer
Bulldog Officer
Condition: New
Warning: Last items in stock!
Availability date:
Anthropomorphic frame: Bulldog Officer by John Byron
Old and real wooden frame and stucco repaints in matt black.
Original work by John Byron: series "Victorian Animals". Impression high quality on textured paper, what gives it this beautiful effect of painting.
"Bulldog Officer": single piece.
English bulldog in ceremonial dress of English officer on the background of tapestry in the victorian motives.
" Anthropomorphisme is a recurring art in 18th century, and we find number of examples through the illustrated literature, as well as the paintings of masters. Dogs, cats, but also and especially animals of the hunting, even the farm, so adorn themselves with ceremonial dresses, and strike the pose, so giving a surrealist counterpart to a too strict rigorism of the portrait of this period, and revealing the indestructible and natural link between the Man and the Animal. "

John Byron - Victorian Animals
Size: 40x45cm View: 24x30cm
No glass in front of the frame. A ring to hang the frame at the back.
Availabilities for Pick-up in store :