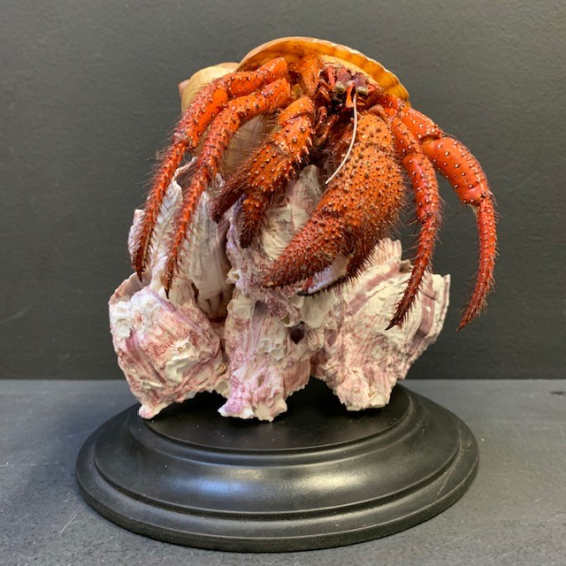 View larger
The hermit crab in it's shell on barnacle
Bernard L'hermite balane
Condition: New
Warning: Last items in stock!
Availability date:
The hermit crab in it's shell on barnacle

Hermit crabs, whose morphology recalls crabs, usually have a soft abdomen devoid of a shell. Therefore, to protect themselves, they occupy shelters often formed by shells.

These species change shells regularly. They are also distinguished by the fact that they have a larger and more powerful right clamp than their left clamp. Thanks to this morphology, they can effectively protect themselves from an unwanted entry into their shell.
This is a hermit crab Dardanus megistos that comes from the lagoons of the Indo-Pacific zone.
It is placed on a common barnacle, Balanus perforatus, crustacean found in coastal areas of the warm temperate regions of the Atlantic Ocean with beautiful colors that range from purple to pink.

It lives on rocks and other rigid supports in the lower half of the foreshore. It also attaches itself to several animal species, including large crustaceans such as crabs, spiders, etc. as well as on ship hulls and signal buoys at sea.

No delivery, too fragile.
H: 19cm - Base Diameter: 18.5cm