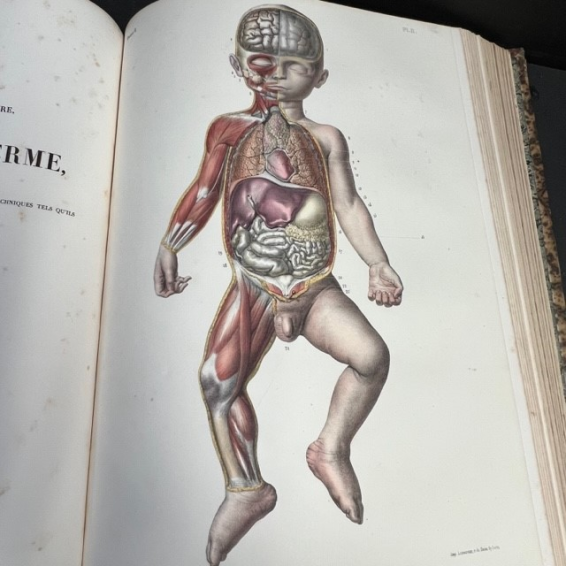 View larger
L'Anatomie de L'Homme - by Bourgery and Jacob - 1854 - Volume 8: Embryogenesis and Atlas
Atlas Tome 8 - Bourgery
Condition: Used
Warning: Last items in stock!
Availability date:
L'Anatomie de L'Homme (The Anatomy of Man) - by Dr Bourgery and the illustrator Jacob
Volume 8: Embryogenesis, philosophical anatomy and microscopic anatomy followed by its Atlas of lithographed colour plates.
First edition published posthumously in 1854 after the death of Dr Bourgery.
It is very rare to come across the colour edition!
The lithographs were printed by the Imprimerie Lemercier, Benard et Cie in Paris.
L'Anatomie de L'Homme is the monumental work of Dr Bourgery who spent the last 15 years of his life to complete it: Traité complet de l'anatomie de l'homme, comprenant l'anatomie chirurgicale et la médecine opératoire.
Unanimously recognized for the delicacy of its drawings made by the anatomist Professor Jacob, pupil of the famous painter of the Revolution, David.
In total this work is illustrated with 725 lithographed plates in folio in sixteen volumes, eight volumes of text in 2108 pages, and eight volumes of plates for 3750 individual figures, which will be the subject of eighty deliveries spread out from 1831 to 1854, the last volume having been published posthumously
Volume 8 is composed of 60 plates.
The lithographs are always preceded by their nomenclature.
Good condition of the lithographs, colours always vivid. Some rare foxing and occasional dampstaining but on the text only and not on the lithograph.
In-Folio: 44x33cm
Extremely heavy! Weight: 5.7Kg
Bound in contemporary red half-chagrin with spine gilt, boards rubbed, corners dulled and missing.
Some operations illustrated in this volume:
-Embryogenesis: Development of the embryo
-Nerve development in humans
-Fetus at term
-Anatomy of the fetus
-Vascularisation of the placenta
-Nervous system in monkeys and other animals
-Indian elephant brain
-Brain of the right whale
-Central nervous system of different species
-Microscopic anatomy
The lower part of the spine of the binding is partly detached.
Availabilities for Pick-up in store :