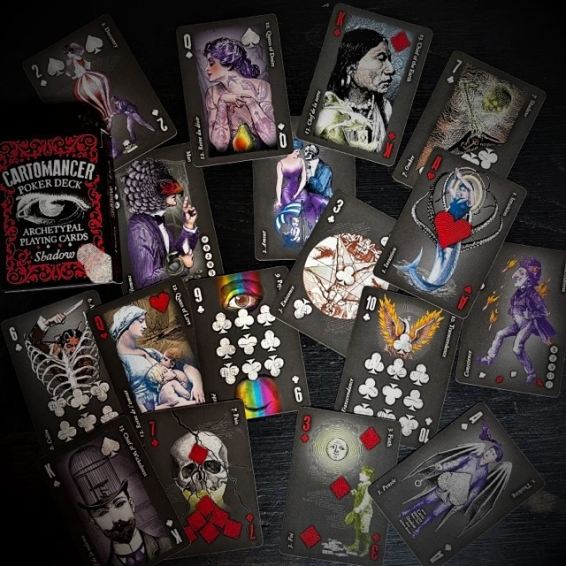 
Cartomancer poker deck - Shadow deck - Fortune-telling
Cartomancer poker deck - Fortune-telling
Shadow deck
Description
54 card tarot deck - fortune telling
Shadow deck
Cartomancy is a divinatory art using the drawing of cards. Cartomancers are also sometimes called "fortune tellers".
This game was created by Alain Benoit, a graphic designer from Quebec living in the United States who is passionate about French cartomancy, old engravings, surrealist collages, but also by Carl Jung's analytical psychology, especially by his studies on archetypes and the unconscious.
His game takes up his passions with its 54 cards constituting a new system of intuitive cartomancy based on key symbols of psychology such as those of the collective unconscious, but also of archetype, the analytical concept developed by Carl Jung.
He has illustrated each card with collages from old engravings.
Each card tells a story and the entire deck depicts a landscape of human nature.
The explanatory booklet (in English) is included with the game.
The illustrations are superb.
The 54 cards of the game are bilingual, in English and French.
Size of the cards: 8.8x6.3cm the size of the usual game cards
"To confront someone with his own shadow is to show him the light within." Carl C. Jung
Curiositas: Exclusive dealer in Paris