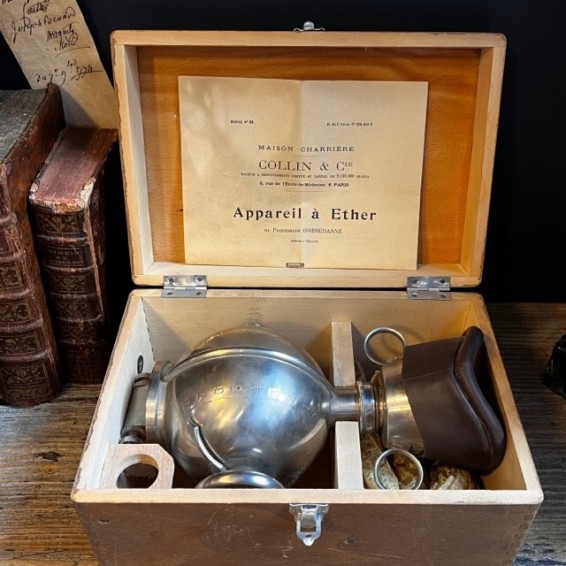 
Ether anaesthesia machine - Ombredanne mask by Maison Charrière - Collin - Early 20th century
Ether apparatus for anesthesia - Ombredanne mask
from Maison Charrière - Collin et Cie - Paris manufacturer of surgical instruments
Early 20th century
In wooden case with instructions for use
Description
Ether apparatus for anesthesia - Ombredanne Mask
Ether inhalator invented by Dr. Louis OMBREDANNE.
Anesthesia machine from Maison Charrière - Collin et Cie.
Louis Ombrédanne was a French surgeon who, following accidents involving anesthesia with chloroform, the only anesthetic used at the time, was commissioned to design a safer system.
The company Charrière - Collin et Cie patented the device in 1908.
This was the only type of anesthesia machine used in France from 1908 to 1939.
The device consists of three interconnected parts: a spherical chamber containing ether-soaked cotton, a rubber mask and a bladder bag (a dried-out, cracked pig bladder) serving as a reservoir of confined air. It is graduated from 0 to 8.
This device was still in occasional use until the 1960s.
It comes in a portable wooden case with instructions for use.
Good condition except for the balloon bag, which has been punctured and torn.