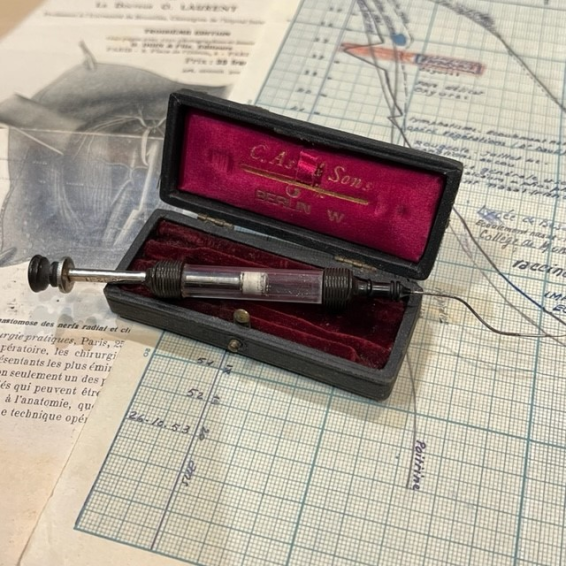 View larger
Antique hypodermic syringe of PRAVAZ - End of the 19th
Celluloïd Berlin
Condition: Used
Warning: Last items in stock!
Availability date:
PRAVAZ syringe: Antique syringe from the end of the 19th century.
Morphine addicts of the end of the XIXth and the beginning of the XXth century often used this kind of elegant syringe in its small case that could be easily slipped into a pocket.
This syringe has a plunger with graduations and a glass body but the tips are not made of metal but seem to be made of celluloid resin, the ancestor of all plastics, manufactured at the end of the 19th century.
A screw step graduated from 0 to 10 allows to adjust its stroke and to measure the quantity of injected liquid.
The syringe is in its small case with purple felt inside. The compartment for the metal wires that were to be inserted into the needle is behind the felt part of the cover, just pull the ribbon to reveal it.
Dimensions of the case: 8cmx3cm
Dimensions of the syringe: Length 7.5cm without the needle
The needle is original, it has been doubly curved
Inscription: C. Ash & Son - BERLIN W
Availabilities for Pick-up in store :