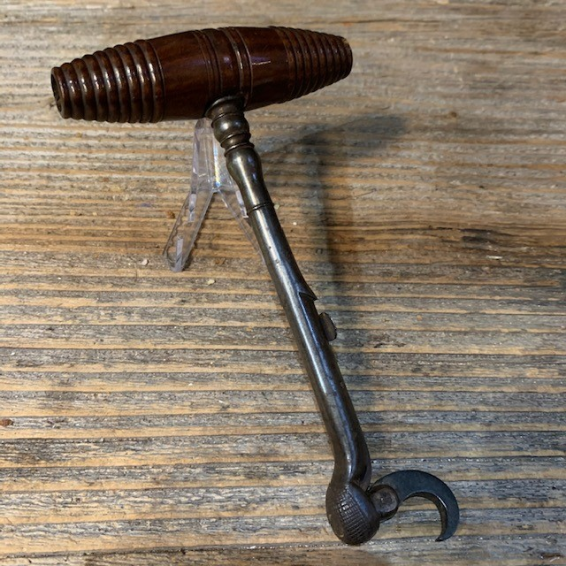 View larger
Dental key - Garengeot Key - Ratchet wrench Late 18th century
Clef dentaire cliquet Fin 18ème
Condition: Used
Warning: Last items in stock!
Availability date:
Dental key - Garengeot Key - Ratchet wrench Late 18th century

Forged iron key and wooden handle with interchangeable screw hook, guilloché ratchet at the end of the rod.

Instrument intended for the extraction of molars by torsion-traction, often used for its ease by dentists but much criticized in the 19th century for the ravages that it could cause by pulling pieces of gums, fractured teeth etc...

The tooth wedged between a hook and a panneton could not resist the operator's twisting motion, similar to that done by opening a lock, hence the name of the instrument, which sometimes removed with the tooth a piece of maxillary...
The ratchet or nut keys have a hook that rotates around a pivot in all directions to reach all the teeth on both sides. But here, a key pressed at the stem of the key allows to choose another notch of orientation of the hook. The fixity of the hook, at each position chosen, is a security.

6-position ratchet wrench, quite rare to find.

An accident on the wood under the handle, the screw on the top of the handle is missing and a cover on one of the sides is missing.

Length 15cm

For more information on the Garengeot keys: https://www.biusante.parisdescartes.fr/mvad/002-06.php