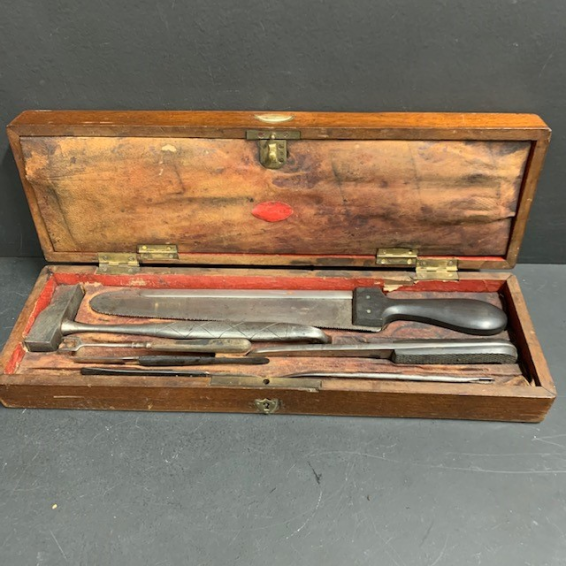 View larger
Postmortem cabinet of XIXth century - Maison Charrière (1851)
Maison Charrière - 1851
Condition: Used
Warning: Last items in stock!
Availability date:
Postmortem cabinet of XIXth century - Maison Charrière
Oak box, handle and brass lock. There is no key anymore so the box does not close. The lock had to be changed because the new one is smaller than the old one but in the same shape.

The interior is divided by a movable part that is closed by a brass clenche. The fabric that fills the box has aged, is dirty and stained. The box set served well...

There remain several original instruments signed Charrière as:
-the mobile back saw with Ebony wood handle
-crochet enterotomy scissors
-A fluted probe
-a large scalpel for autopsy (resembling a knife)
-a hook hammer

There are many other instruments from other manufacturers. There is even a right scalpel (cabbage cutter type) with horn handle from the Pellegrino house in Casablanca.

All scalpels are not originals and do not fit properly in their intended locations. Normal that over time the sharpest tools needed to be changed.
16 instruments appear in total in this wooden box.
This box appears on the Maison Charrière catalogue in 1851: Boîte d'Instruments d'Autopsie N°1 or perhaps N°2.

Dimensions: Length:41.5cm Width 12.5cm Height 7cm
Availabilities for Pick-up in store :